The Oxinium Ceramic Total Knee
Author: Webmaster Date: 2/26/2014

""The knee that lasts forever""
---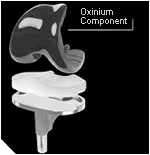 Smith and Nephew Orthopaedics developed a new knee in 2002. For the first time this incorporated a low friction and low wear ceramic surface into the components of a total knee replacement. The surface was crucially not applied as a surface coating but an integral part of the metal surface which could not flake off, or wear through. The technology for altering the surface of a metal alloy in this was borrowed from the manufacture of formula 1 racing cars.
The knees were first trialled in the Hospital for Special Surgery in New York before being released worldwide. Mr Johnson first used the new knee on its release in 2002. Importantly David has always used the knee in its cemented mode. The knee is more expensive than the usual stainless steel versions of knee replacements but has the advantage of significantly reducing the amount of wear which occurs in the articulation with the polyethylene. This theoretically increases the life of the knee well beyond the 20 years life span for a knee replacement. David Johnson said "the very much reduced rate of wear in the joint could potentially increase the life span of a knee from 15 or 20 years to 25 years, 30 years or even more. This makes this type of knee the optimum choice for young, active, sporting or overweight patients. Now after using the knee for more than 10 years I am delighted with the results and as yet not a single one of these knees has failed and none have needed to be redone."
Andy Young is a recent patient of David Johnson who travelled from Canterbury in Kent to see David Johnson. He was only aged 48 but had suffered with his knees for many years and despite his relatively young age required both to be replaced. He recently underwent bilateral total knee replacement in Bristol using the Oxinium Ceramic total knee replacements. Andy said, "I had put off having my knees replaced and one of the key considerations was the amount of time the replacements would last, given my relatively young age. The results that David Johnson has had with the Oxinium replacement was a major factor in me electing to go ahead with the operation at this time – you never know my new knees may even see me out!"
Link: Oxinium
---