Mrs Vivien Ablett - Total Knee Arthroplasty Case Study
In October 2002, after waiting for surgery for two years in the NHS, Vivien was sent by the Royal United Hospital in Bath to Mr Johnson. An initial arthroscopy was undertaken which demonstrated osteoarthritis in both knees. Unfortunately because of the extent of the arthritis Vivien had continuing pain, stiffness and restriction in her activities and ability to work. She therefore underwent a right total knee replacement in November 2002. At this time Vivien was aged fifty four which was very young for a knee replacement. Mr Johnson therefore used one of the new Oxinium total knee replacements. This was inserted using cement. Vivien recovered well and started walking on the second post operative day and was discharged after a week.
Vivien made such good progress that she requested to undergo a further knee replacement on the left side in July 2003 eight months after the right side. Again an Oxinium knee replacement was performed. Once again following this she made an excellent recovery and was discharged after seven days. When reviewed six weeks later she had a range of motion of 0º to 125º on both sides, no pain, swelling and was walking comfortably without any support or sticks. She was advised that she can return to gentle activities including gentle sports. Since then she has returned to full activity and is essentially unrestricted.
Vivien said:
"After waiting for two years to be seen by an NHS Consultant I was delighted to be referred by the Royal United Hospital in Bath to Mr Johnson. My experience was excellent, I would definitely recommend Mr Johnson and the Nuffield Hospital to other patients."
When asked about undergoing knee replacement at such a young age Vivien responded by describing the difficulties she had with the pain and stiffness in the knee. "To be relieved of the pain has enormously improved my life."
Vivien was able to receive one of the new cemented oxidised Zirconia total knee replacements. This knee has been used for five years in the USA but is new to the UK. It uses a new technology to reduce the wear in the knee by up to 85%. Because of Vivien's very young age Mr Johnson was able to recommend this type of knee replacement for the potential increase in the life of the knee replacement.
Mr Johnson comments:
"Vivien is an excellent example of what can be achieved with knee replacement where patients should be able to return to daily activities and work without restriction. I believe that the new technological advances will potentially allow replaced knees to last for a longer period of time."

Mrs Una Carlow - Total Knee Arthroplasty Case study
Mrs Carlow's comments:
"Following an arthroscopy I was advised that the plan to have the uni-compartmental knee was not feasible and I would need a total knee replacement. My general practitioner referred me to Mr Johnson because the Oxinium knee seemed the preferred product for someone my age (58). However because of the nature of the arthritis present Mr Johnson believed there was only a slim chance that the mini knee was still an option. After my surgery I was surprised to learn that I did have the mini knee yet on reflection I was impressed that Mr Johnson had been able to make that judgment and switch to the more conservative approach during the operation."
"And the result? To be able to put pressure on the joint and walk pain free from the day after surgery is like a miracle. And to walk silently without all the crunching and grinding sounds in my knee makes me feel like I'm gliding on castors! That is not to say there was no pain but it is the "bettering" pain that has to be gone through and is the short term temporary consequence of the surgery. However the bruising, swelling and muscle damage settles quickly. The first few days pass in a round of physiotherapy exercises, walking, pain control, rest and in my case ice to reduce the swelling. Concentration goes for a time - forget about all the things that would be done in this time off work ... this time is truly for recovery. And the pay off comes soon afterwards in being able after 2 weeks to discard sticks, getting a high degree of flexibility and walking greater distances. I had wanted to be able to go for decent country walks and at 8 weeks I could see my goal is attainable. At 11 weeks from the date of surgery not only can I comfortably exceed 4km but can go at a speed that I had completely forgotten is the norm for most people."

Mr John Kitchener - Total Knee Arthroplasty Case Study
Mr John Kitchener is a retired seventy-two year old. He was referred to Mr Johnson by his general practitioner in October 2002. John had suffered with increasing problems of osteoarthritis affecting the left knee over the previous two years. His walking was limited to a hundred yards with every step being painful. His left knee regularly gave way and kept him awake with pain at night. He had taken analgesia and anti-inflammatory medication without any great success.
When John first attended Mr Johnson in October 2002, clinical examination demonstrated a 7 degree deformity of the knee, a significant amount of swelling and instability. He was particularly tender along the inner aspect of the joint. Radiographs demonstrated severe osteoarthritis.
John accepted Mr Johnson's advice that a knee replacement was necessary. This was undertaken at the Nuffield Hospital in Bristol on 25 November 2002 using the new Oxinium total knee replacement. He was discharged home to the care of his wife ten days later and returned to see Mr Johnson in January 2003.
Only six weeks after the operation, John was noted to have made excellent progress, indeed, much faster than usual. His range of motion then was from 0 degree to 115 degrees, greater than the usual range of knee bend at this stage. He did not require further pain relief tablets and was walking at least half a mile a day and was very happy with his progress.
Mr Kitchener described the success of the operation:
"The Oxinium implant made it possible for me to have knee surgery that could last longer than traditional implants. I was in such dreadful pain before the operation, only managing to walk a few hundred yards, but each step was very painful. It's been a few months since the operation and after only six weeks I was able to walk again relatively pain free. I'm now doing really well and can walk at least 5 miles a day and do my gardening - I have been able to just get on with my life again."
Mr Johnson says:
"John's progress was remarkable. His very rapid recovery required only minimal assistance from the physiotherapist and his return to walking after many years of difficulty only six weeks following surgery was very gratifying. I very much hope John can now enjoy life again to the full benefit of his new knee."

Mrs Ann Taylor - Total Knee Arthroplasty Case Study
Mrs Ann Taylor is a District Nurse aged fifty-nine. She presented to Mr Johnson through her chiropractor. Ann had suffered with both knees causing increasing pain over the previous four years. The initial problem followed a fall 10 years earlier. Her knee's were stiff and she could not kneel, they were painful towards the end of the day and particularly when twisting or walking on stairs. She was not able to undertake a round of golf without significant pain.
Initially, arthroscopic surgery was undertaken in November 2002 when Ann was admitted to the Bristol Nuffield Hospital as a one night stay. Unfortunately, at that time, the arthroscopy demonstrated significant arthritis in the left knee. As a result of this, Ann underwent a left total knee replacement using the new Oxinium Profix knee in mid-January 2003.
Following surgery, Ann made excellent progress and was discharged from hospital only a week following the procedure. She had regained 100 degrees of knee movement after three weeks. At that stage, she had already reduced her requirement for analgesia to two Paracetamol tablets a day. Ann was delighted with her progress, and with regular exercise, physiotherapy and hydrotherapy sessions was unrestricted in undertaking most daily activities nine weeks following surgery and was able to play golf again after 12 weeks.
Mrs Taylor commented on the success of the operation:
"The Oxinium implant made it possible for me to have knee surgery at a young age. With a traditional implant, I would probably need a replacement implant later in life. It's only been a few months since the operation so it is still early days, but it is important to have good occupational health support such as physiotherapy, regular exercise and hydrotherapy to make sure the joint works properly. I'm now doing really well and have been able to get on with my life again as I'm out playing golf 12 weeks after the operation, walking around and I don't have the same degree of pain I had before surgery."
Mr Johnson suggested that:
"Ann's progress was excellent. She had no problems following the procedure, other than normal post-operative pain and swelling which resolved ove rthe first few days. Her rapid return to daily activities by three weeks and to golf by twelve weeks shows the excellent progress she has made. I now hope that she will experience up to twenty years of unrestricted benefit from this knee. Once again, the speed and extent of her recovery supports the view that use of the Oxinium Profix knee may be a significant advance."

Mr Neil Wright - Total Knee Arthroplasty Case Study
Neil is an avid golfer, semi-retired although still running a company. Neil previously played semi- professional soccer, county tennis and squash for Durham resulting in persistent knee pain in later life. In 2002 Neil was unable to walk more than a few holes at golf. At the age of 61 Neil had been told that the only option was to have a knee replacement. Neil was reluctant to have a knee replacement at such a young and active age.
He therefore decided to seek a second opinion Neil and his family were concerned that the outcome in respect of his sports was uncertain and they wanted to explore other possibilities and treatments. Neil discovered other information about the possibilities, success and recent advances in knee replacement surgery and other lesser treatment options on the web site www.orthopaedics.co.uk. In August 2002 Neil flew to Bristol with his X-rays and scans for a second opinion. The question asked was: "Is there anything other than a new knee which can relieve the pain and keep me active and playing golf?"
After a review of the history, examination, radiographs and scans it appeared that the problem in the knee was twofold. Neil has wear and early arthritis which troubled him when twisting or walking long distances. In addition Neil had pain in the front of the knee when walking. This anterior knee pain was particularly troublesome when climbing hills or stairs, walking for any length of time or playing golf. Initially in September 2002 Neil underwent a knee arthroscopy. The medial or inner cartilage was found to be torn and degenerate and the damaged portion was removed. In addition the patella in the front of the knee was realigned . Neil made a good recovery. He was reviewed in November before flying to South Africa for the winter. However whilst playing golf regularly Neil did complain about the knee becoming painful and swelling up with pain. David arranged for Neil to see a colleague in South Africa in January before Neil returned home in April.
David considered that the arthritis affecting the patella was advancing and causing further problems. Once again Neil wanted at all costs to avoid a knee replacement if at all possible but wanted to continue his golf. Therefore in March 2003 David undertook an arthroscopic or telescopic removal of the lateral or outer margin of the patella; the most arthritic area. This progressed well over the recovery period and Neil again returned to golf. David again reviewed Neil in April when he was progressing well, complained of no pain and was able to play regular golf.
Slowly however over the years Neil had to use a buggy again and was unable to walk more than a few holes slowly. In June 2006 three years after the arthroscopy, Neil was no longer able to enjoy his golf and finally and somewhat reluctantly decided to undergo a knee replacement. David undertook a Minimally Invasive Surgery, Oxinium bearing total knee replacement. Whilst the operation went well and Neil retuned to independent walking after only two days. However Neil suffered a deep venous thrombosis (DVT) in the calf which necessitated an additional two week stay in Bristol and resulted in some knee stiffness. With regular physiotherapy at home in Newcastle Neil progressed and began to bend the knee well and become more mobile.
Some 4 months after knee replacement Neil telephoned David from South Africa to report that he had scored a lifetime best of 74 at the Championship Erinvale Golf Course. Currently a year after the knee replacement Neil plays regular golf again several times every week. He is unrestricted by the knee and takes no pain killers. He finds that applying an ice bag to the knee after exercise and taking an occasional anti-inflammatory tablet helps.
Neil says:
"Having been so active at sports all my life looking back I was terrified of things going wrong and being immobilised or incapacitated. My whole social life and circle of friends revolves around my mobility and my golf."
"The initial arthroscopies undertaken by David were successful for a while as had been explained to me. However it does seem impossible to escape from arthritis, especially if you retain an active lifestyle."
"The removal of the outer margin of the patella proved very successful and delayed the need for a knee replacement for three years."
"The decision as to when to have a knee replacement is a difficult one, particularly as I had little pain. My problem was more poor mobility, stiffness and an ache. In the end I just did not want to or could play golf. My wife and family were complaining about my grumpiness and limp more than I was. When therefore David advised me of new advances in prosthetics, I felt the time was right to go ahead with the operation."
"I am now delighted by my ceramic knee. I got over the initial stiffness following the DVT and am now able to walk the hilly links course on successive days and enjoy my golf again."
David says:
"There are often many different possibilities when treating arthritis and degenerative joints. Physiotherapy, injections or strengthening is sometimes enough. Arthroscopy can be entirely successful for many patients dependent on the stage of the underlying arthritis. The best success, function and longevity is produced by total knee replacement in this situation."
"In patients with isolated Patello-Femoral arthritis the treatment options are various, Patello-femoral replacement of the patella only tends to provide only partial relief of symptoms. The Patello-femoral replacement is much more prone to premature failure and loosening. Patient also often have residual anterior knee pain and stiffness which limits their function following surgery. Where appropriate total knee replacement often presents a more reliable and successful option in active high demand patients."
Osteoarthritis is a progressive wear and tear of the joint surfaces so it presents more of a problem in active people particularly where they have played a lot of sport in their earlier days."
"Many patients presenting with knee pain or arthritis may not have the condition correctly diagnosed. Often the arthritis and symptoms are confined to one area of the knee such as the patella. This then demands and necessitates different treatment. In Neil's case despite the advanced arthritic changes generally in the knee he was improved and able to play golf for a further three years following arthroscopic removal of the lateral arthritic boarder of the patella."
"Patients often retire to play golf and the inability to walk 18 holes in comfort is often a presenting feature of knee arthritis. Patients are often surprised at how good knee replacement really can be."
As Mr David Johnson specialises in the treatment of sports injuries which spans all ages from the young athlete to the elderly. This involves a deep understanding of the demands sport can put on the knee and the expectations of active sportsmen and women. The treatment of the aging athlete or sportsperson as they become troubles by wearing joints tendons and muscles demands great insight and understanding "My experiences at competing at National and International level helps".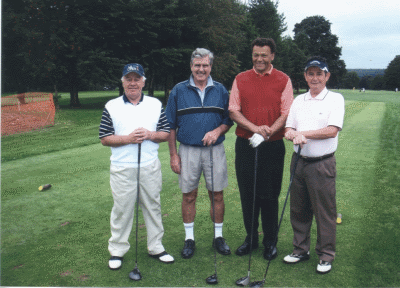 Mr Neil Wright, far left. Mr David Johnson, 2nd right.

How to arrange an appointment with Mr. Johnson
Your first appointment is usually arranged with Mr Johnson at the Bristol Nuffield Hospital at St Mary's. It is a modern well-equipped hospital with 36 private bedrooms and two operating theatres, and offers a full range of services.

Related Links..