Mr Benjamin Nelki - Anterior Cruciate Ligament Reconstruction
Ben is a recruitment consultant aged twenty five and is a competitive soccer player. In 1997, Ben was referred by his father, a general practitioner, following an acute injury to his right knee. An MRI scan was arranged which revealed the anterior cruciate ligament to be ruptured. Ben therefore underwent an arthroscopy and anterior cruciate ligament reconstruction.
When reviewed by Mr Johnson six months following surgery Ben had a full range of pain free motion, he had no symptoms and had returned to cycling and jogging. He was advised to return to competitive soccer following a further three months of rehabilitation which he successfully did.
Ben was referred to Mr Johnson on a second occasion in March 2003 having injured his right knee again whilst playing competitive soccer. He presented to Mr Johnson complaining of pain, tenderness and swelling in the knee and appeared to have a torn medial meniscus. An MRI scan confirmed this and Ben underwent an arthroscopy and repair of the medial meniscus of the right knee in May 2003.
Three months later at a final review clinical examination showed that the knee was entirely stable and there was no tenderness around the knee or site of meniscal repair. He was advised to continue with his exercises such as jogging and cycling and to return to normal competitive soccer in six weeks.
Mr Nelki said "Taking part in any sport before the operation was impossible as the knee gave me a lot of pain. The operation itself was straightforward and I was able to return to my previous level of activity relatively quickly. The ligament operation and subsequent cartilage operation have given me the confidence to continue with sport at a competitive level and I have had no further problems."
Mr Johnson comments:
"Ben represents the success which can be gained from specialized techniques in knee surgery. Initially an arthroscopic reconstruction of the anterior cruciate ligament was undertaken. This was a complete success allowing Ben to return to competitive soccer. In fact when he had a further injury this did not affect the ACL ligament graft or stability of the knee at all. The meniscus tear was able to be repaired rather than removed, using specialized instrumentation this was undertaken arthroscopically or by a "key hole" technique. Repairing a meniscus tear is an advantage as it helps to stabilize the knee and prevent degeneration and arthritis which might otherwise develop over the course of time."

Miss Emma Gibson - Anterior Cruciate Ligament Reconstruction
Miss Emma Gibson is a thirty eight year old horsewoman. Emma was initially referred to Mr Johnson in February 2000 by her physiotherapist in Wells having fallen from a horse six months previously and had been suffering from intermittent pain, swelling and significant instability in the left knee.
An MRI scan was arranged which revealed a tear of the medial meniscus and underlying anterior cruciate ligament rupture. Emma is a competitive horse rider and the season was due to commence therefore Mr Johnson initially advised a simple arthroscopy and meniscectomy and delayed the arrangements for an anterior cruciate ligament reconstruction to take place after the end of the competitive season.
Emma underwent an arthroscopy and meniscectomy of her left knee in March 2000. When reviewed in clinic by Mr Johnson three weeks following surgery she had made excellent progress, she had a full range of motion, there was a minimal effusion and she had returned to horse riding. However as was predicted she noticed some instability of the knee.
Emma returned to see Mr Johnson in October 2001 having recently tripped and experienced a further instability episode. An arthroscopic anterior cruciate ligament reconstruction, medial meniscectomy and chondroplasty was undertaken in November 2001. The anterior cruciate ligament tear was reconstructed with an arthroscopic patella tendon technique. Arthroscopy did reveal some significant damage to the articular surface of the knee. Mr Johnson informed Emma that at a later date she would require an osteochondral transplantation to reconstruct the damaged articular surface and prevent osteoarthritis.
Emma returned to riding six weeks after surgery and to competitions after three months. She was kept under regular review by Mr Johnson. When seen in July 2002 the anterior cruciate ligament reconstruction was intact and the knee was stable and the osteochondral transplanted area appeared satisfactory. By this stage Emma had returned to full competitive horse riding and had been successful in qualifying for the Horse of the Year show.
Emma was reviewed by Mr Johnson in January 2003 a year following anterior cruciate ligament reconstruction and osteochondral transplantation. She had an excellent year competing on her three horses and had won several competitions. She was complaining of continuing symptoms of pain and crepitus in the knee when riding with the knee flexed. Mr Johnson therefore advised an arthroscopy and debridement of the left knee to check on the integrity of the articular surface and this took place in February 2003. The arthroscopy confirmed patello-femoral chondromalacia as the cause of the continuing anterior knee pain.
Emma attended for a final review in February 2003. She was doing well and reported that she had returned to competitive eventing.

Mr Alexander Harris - Anterior Cruciate Ligament Reconstruction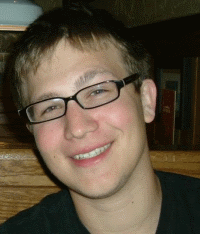 Alex was an 18 year old first year Oxford University student. Whilst at school in Bristol, he had been a regular midfielder for his school's first XI soccer team, so at university, Alex enrolled for his college's soccer team. However, unfortunately, on a Thursday in October 2006, only three weeks into his first term, Alex suffered an injury in his first match for the college. He was involved in a tackle and during the impact, he twisted his right knee. He felt a pop and immediately could tell the knee was unstable. The knee rapidly became swollen and he was unable to continue playing or move it very much at all - indeed, he could not fully straighten his leg. He was returning to Bristol that evening anyway, so was taken to the Accident and Emergency department of the Bristol Royal Infirmary on the Friday, where an X-ray was taken. He was advised that he may have a significant injury, though a precise diagnosis was not made and it was unclear exactly what had happened inside the knee.
Alex's father was a dentist and he was unhappy about the lack of an accurate diagnosis or treatment plan. Fortunately Alex's father was a golf partner of David Johnson and he immediately rang David. Alex was seen that very afternoon, and an Anterior Cruciate Ligament (ACL) rupture was diagnosed on the history and clinical examination. The diagnosis was therefore made on the Friday afternoon and an MRI scan was booked for the following Monday at the Bridgwater MRI Centre. This was undertaken to confirm the diagnosis and determine if there was any additional meniscal, cartilage or articular surface damage. Alex returned to Mr. Johnson for review on the Wednesday. The MRI demonstrated that the menisci and other parts of the knee were normal, though part of the torn ACL was preventing the leg from straightening. David advised Alex and his father of the options for treatment. The main factor for Alex was the length of time he would miss from his university studies and whether he should delay the surgical repair until the Christmas vacation. David was able to advise that if he had the full surgical repair, using rapid rehabilitation techniques, Alex would be in hospital for one or two nights, using crutches for only 2 or 3 days and able to return to university and lectures after 10 - 14 days. Alex therefore decided to go ahead with an early complete reconstruction of the meniscus and ACL which was able to be undertaken on the Thursday just one week after the injury was sustained.
At arthroscopy Alex was found to have a complete rupture of the ACL. Due to Alex's young age, and his soccer involving active twisting and pivoting, David chose to use the gold standard and most reliable method of ACL reconstruction of a Bone Patellar Tendon Bone graft from the same knee. Alex underwent a period of inpatient rehabilitation under the supervision of the physiotherapists at the Bristol Nuffield Hospital and further physiotherapy after he was discharged on the Friday morning after only an overnight stay. Alex was also provided with a physiotherapy and rehabilitation protocol to follow regularly whist at home. Indeed Alex progressed so well that on the 9th November he was able to straighten the knee and bend it to 110°. Mr. Johnson therefore allowed him to return to university only 10 days following surgery. He continued his rehabilitation under the supervision of physiotherapists at Oxford University.
Alex progressed well with his rehabilitation. He was able to start cycling in the gym at 4 weeks following surgery; he returned to gym training and gentle crawl swimming and pool exercises at 6 weeks. By Christmas ten weeks after the injury, the range of motion was 125° without any pain or swelling and he was ready to return to gentle jogging. In April Alex's knee proved to be entirely stable to examination by Mr. Johnson, he had a full range of motion, no pain and no swelling, and was therefore allowed to return to basic training just 6 months after the injury and reconstruction. He returned to playing full soccer matches in July, 9 months after the injury, before returning successfully to pre-season training at university in September.
Alex said:
"Suffering the injury just three weeks into my first term at university was very unlucky, and caused a great deal of concern for me. As well as the fact that I had seriously damaged my knee, and therefore faced a prolonged spell away from playing football and a missed opportunity to play in a new team, I was also very worried about how my academic work would suffer if I needed to return home for surgery and rehabilitation. Fortunately, my tutors reassured me that I would be able to catch up and allowances would be made. Furthermore, the speed at which I was able to have the surgery was brilliant - I returned to university 3 weeks after sustaining the injury - and only a fortnight after surgery, so I didn't miss as much as I had feared. I passed the first year exams and so that came as a great relief to me."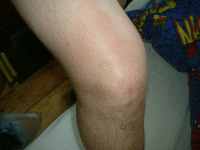 "The speed with which the whole thing was arranged really was excellent - although the first few weeks post-operation were difficult, I was very quickly able to resume my normal life and get around between lectures. Whilst it is early days, my knee feels very strong and presents no problems at all, and I am starting to return to the standard of football I was capable of before the injury - and on schedule too - just 9 months after the injury. I have been able to compare my progress with one of my favourite footballers, Newcastle striker Michael Owen, who suffered a similar injury, 3 months before me. We both returned to competitive matches at similar times, so I am happy that my progress has been up to pace with a professional footballer's who was operated on in Vail, Colorado USA and who had a full time rehabilitation team."
"I also have a friend with which I can compare my progress. He ruptured his ACL a year before me and waited several months for surgery within the NHS, so did not have his knee reconstructed early like I did. He spent two whole seasons on the sidelines, and has only just returned to competitive football, whereas my recovery has been much faster. I am very glad that I chose to have the whole knee and all the damage repaired and reconstructed at the outset - it was much better to repair the damage straight away instead of waiting several months - my academic work did not suffer much at all and I am delighted to be back playing football earlier than I expected. Furthermore, my knee feels great and entirely stable - I am glad that Mr. Johnson used the Patellar Tendon Bone Graft method to reconstruct my ACL, instead of a hamstring type reconstruction, which I have read can result in lack of stability, pain and swelling. I am very grateful for the care and reassurances of Mr. Johnson and the attention to detail which has given me such a good result."
David Johnson said: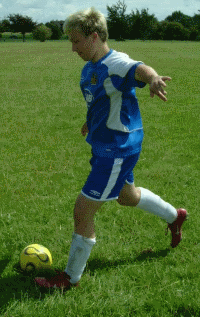 "A rapid assessment, examination and MRI should always be achieved. This allows a proper assessment of the extent of the injury. It is not just the ACL injury which is important but the menisci, cartilage and articular surface. To some extent it is these additional injuries which determine the extent and optimal timing of surgery. Prolonged wait for assessment or surgery often results in further damage being sustained and the chances of a successful outcome are sometimes compromised. If the cartilage or menisci is to be repaired then this should be undertaken as soon as reasonably possible."
"Alex was the ideal young active fit and motivated patient who expects and demands a good functional result. Success can really only be measured by a positive and full return to the previous sport at the same level without any hesitation or restriction. That is the true test of success. To reliably and consistently achieve this a certain expertise and experience is necessary not only of the surgeon but also the anaesthetists, inpatient and outpatient physiotherapists and the rehabilitation team."

How to arrange an appointment with Mr. Johnson
Your first appointment is usually arranged with Mr Johnson at the Bristol Nuffield Hospital at St Mary's. It is a modern well-equipped hospital with 36 private bedrooms and two operating theatres, and offers a full range of services.

Related Links..